How to Increase Website Traffic & Sales with Videos
A well thought out and professionally executed video strategy can be a game changer for any company. People love to watch videos to get information they need, to learn something new, to help them decide whether or not to make a purchase, and obviously just for the entertainment. I mean, when have you scrolled through your Facebook or Instagram feed and not checked out a video?

A well thought out and professionally executed video strategy can be a game changer for any company. People love to watch videos to get information they need, to learn something new, to help them decide whether or not to make a purchase, and obviously just for the entertainment. I mean, when have you scrolled through your Facebook or Instagram feed and not checked out a video? Also, did you know that many major brands have made YouTube their marketing channel of choice?
Videos can make big impacts on numerous elements within your digital strategy. Videos give your visitors engaging content (both on your website and social media channels), improve your website's core metrics (time on site, bounce rate, etc.), give your audience a better experience, and they can even create a whole new flow of qualified traffic directly to your product pages.
I admit that I am an amateur when it comes to technically producing a well-shot, high quality video. Needless to say, I won't be reviewing that aspect of video strategy. What I will do, however, is give you some actionable advice about how to use videos in your marketing strategy to personally connect with your target audience, generate more qualified traffic to your site, and increase your e-commerce sales. Let's get started!
Video Content Planning
Planning your video is critically important, especially if you are shooting in a special location, doing interviews, or anything else that would be difficult to recreate. Obviously, planning can be as involved as you need it to be. At a minimum, these are five core steps you should include.
Step 1: Story & Purpose
This step sounds somewhat obvious, but understanding the story / purpose of your video and why you're creating it is vital to the video's success. Everything you do with the video, including making the video itself and marketing the video when it's finished, is built from this step. Are you trying to educate your audience about a specific topic? Are you revealing a new product or reviewing a current one? Once you understand the "why," it will be much easier for the rest of the pieces to fall in place.
Step 2: Write Your Script
Even if you happen to be a natural in front of the camera, write a script (or at the very least an outline). This will ensure you cover all of the points you want to discuss as well as make the video flow much smoother. This is especially true if your video involves multiple people, or if the video will be more lengthy. Also, you'll be able to shoot the video more efficiently because there will be less retakes and editing.
Step 3: Plan Your Location
The location where you shoot your video depends on your content. It may include outside locations, multiple locations, at your company's front office, or just in a studio. It's important to plan this out so you know how the footage will come together in the end. This is especially true if you're shooting a video outdoors because the lighting, external sounds and possible distractions usually cannot be controlled. Scout the area so you can choose a time of day that works best for what you envision. Also, It's a good idea to have a backup location in case something unexpected happens and you are unable to shoot at your primary spot.
Step 4: Sound & Lighting
The sound and lighting in your videos can be the difference maker between an ametuer looking production and a professional one. When starting to build out your video capabilities, there's a wide range of equipment and lighting options to consider. We recommend starting out with basic studio lighting, an entry-level camera (or you could even use a newer smartphone), an inexpensive tripod, and a decent microphone (either a shotgun mic or lavalier mic) before spending the big bucks on the more expensive video equipment. Good lighting and sound can go a long way in creating higher quality videos.
For ecommerce stores, the ultimate goal is to get more customers and increase sales, whether that be directly through promotional product videos or indirectly through educating or entertaining your audience. Studio lights and an external mic are really important because if your audience can't easily see and hear what you have to say, there's a good chance they'll stop watching your videos. Once you have your raw footage, you can make adjustments to your lighting and sound using a video editing program. Customs appreciate being able to see products at multiple angles and being used in the "real world" because it helps them to make a more informed decision.
Step 5: Editing & Finalizing
This is the final step where everything comes together. Before you publish your video, you'll want to add branding, improve the sound quality and lighting, cut out unneeded footage, create smooth transitions and even add text and calls to action. The most common video editing programs that businesses use are Final Cut Pro (for Mac users) and Adobe Premiere Pro (for PC users). These programs can be a bit overwhelming for novices, so if nobody on your team has experience editing videos, you may need to outsource this task. Once your video is finalized, you're ready to start sharing!
If you'd like to learn more on your own, there are plenty of tutorials on YouTube that are very helpful, or you can sign up for an entire course through sites like LinkedIn Learning (formerly Lynda.com).
Video Content Ideas for E-commerce
There are plenty of ways you can use video to increase the brand following and sales for your e-commerce store. Here are some ideas to start with:
Use product tour videos to increase conversions - This is a great way to introduce your products to potential customers. In these videos, concentrate on showing your audience the value that your products offer, why your products are worth their cost, how your products work, and any other noteworthy differentiators that people would find interesting.
Generate more traffic with how-to videos and tutorials - Tutorials and how-to videos not only help your customers become familiar with your products, but they are also great for SEO. With a little bit of keyword research, you can optimize your how-to videos for commonly searched questions or phrases to generate more organic traffic to your website. Also, don't forget to include a transcript and closed-captions to your video. Doing so will give search engines a better understanding of your video's content.
Answer commonly asked questions - These videos are similar to the how-to and tutorial videos, but relate more to the questions that your customers are asking. This type of video can improve the experience your users have and also free up customer service reps from answering these questions manually.
An inside look at your company's operations - An important aspect of branding is the ability to create a personal connection with your target audience. By giving your audience a look inside your company and how it works, they will have a better appreciation for your products.
Host a live Q&A on YouTube or Facebook - Hosting a live question and answer session can create personal connections with potential customers as well as give them the answers they need in order to make future purchases. After the conclusion of the Q&A session, optimizing and posting the video to your website or social media channels will help drive in additional traffic from organic search.
Teaser videos for new products - If you're planning on launching a new product, a teaser video is an excellent way to build hype for the launch and to collect new emails for future communication with your target audience. At the end of your teaser video, be sure to add a call to action which gives viewers the option to submit their email address so they can receive notifications about the new product launch and any other special promotions you plan to run.
Comparison videos / showcase your differentiators - Although these types of videos are nothing new, they still work tremendously well. If you're skeptical, just watch any infomercial. You will surely see a product comparison in the video because they have such a lasting impact on potential buyers. Comparison videos also make excellent content for social media ads on platforms like Instagram and Facebook. You just need to be careful about using another company's brand or logo.
Customer videos unboxing, using or reviewing your products - Unboxing and product review videos have the potential to drive a lot of qualified traffic directly to your product pages, but you must be able to connect with the right influencers in your industry. People that follow influencers generally trust their opinions about products in their videos. A good unboxing / review video from a popular influencer will introduce your products to many new customers that may have never seen your products otherwise.
Video case studies - Case studies do a great job building credibility for your brand, but if they're wordy, some of their potential impact can be lost. Video case studies tell your story more efficiently and have a better chance at holding the viewer's attention until the end.
Uploading, Optimizing & Promoting Your Video Content
Below are some of the major options where you can share your video content with both potential and existing customers. Let's take a deeper look at how to optimize your videos for each platform and the most efficient way to share them with your target audience.
YouTube
YouTube is the second only to Google when it comes to the utilization of search functionality. If you're creating videos to increase traffic and sales, you should be uploading them to your YouTube Channel. If you don't have a YouTube channel created yet, this is a good resource for getting started.
For each video you upload to YouTube, the first thing you should do is rename the filename using a phrase relevant to the video content which includes the main keyword you're planning to target. For example, if your ecommerce store sells birdhouses and bird supplies, and you are uploading a video to target the keyword phrase "build a birdhouse", you could name the video file "how-to-build-a-birdhouse.mp4".
After you've revised the filename, you can start to upload the file to your channel. During the uploading process, you'll be able to fill in information about the video. First, you'll need to give your video a title. It should include your target keyword phrase in a natural way, preferably at the beginning of the title. Doing so will help improve the ranking in search results for your target keyword phrase. In addition to ranking improvement, the eyes of the user tend to be drawn to titles that include the phrase that they searched (or at least a close variation to it).
The next step is to add the description of the video. It's important to note that, although YouTube allows 1000 characters in the description box, only the first three lines will be displayed in the search results. Naturally use your keyword phrase again in these first three lines while summarizing your video's topic and enticing potential viewers to watch.
After you've written a description, add tags to your video that are related to the content. This improves SEO and also informs viewers about your video's content. There are paid tools that give recommendations on what tags to add, or you can use YouTube's suggested tags along with creating your own. Add your target keyword phrase in the first spot and include other variations after.
Once you're finished adding tags, select the most appropriate category for your video as well as specify a thumbnail image. It's strongly recommended to upload a custom thumbnail image rather than choosing a screenshot that YouTube captured from your video. Your thumbnail should spark interest in your target audience so they want to see more. You can easily create formatted thumbnail images using online tools such as Canva or Adobe Spark.
The last step to complete once your video has finished uploading is to add an end screen so that your viewers have the option to subscribe to your channel or to watch other videos on your channel.
Facebook
When sharing your videos to Facebook, it's actually better to upload them to your business page rather than just sharing a YouTube link. The problem with sharing your YouTube video link on Facebook is that Facebook doesn't "play nice" with these links. When you share a YouTube link on Facebook, only showing a small, unappealing thumbnail of your video will be displayed. More importantly, Facebook drastically reduces the amount of people that will actually see your post. Although we don't know Facebook's algorithm, studies show that Facebook doesn't favor posts that take users away from the platform, especially when those users are being directed to YouTube.
A study conducted by Search Engine Journal showed that YouTube videos were seen less than half the time compared to the same videos uploaded directly to Facebook, and a different study concluded that Facebook videos actually received 477% more shares compared to the same videos shared directly from YouTube. If that's not conclusive enough evidence, I don't know what is!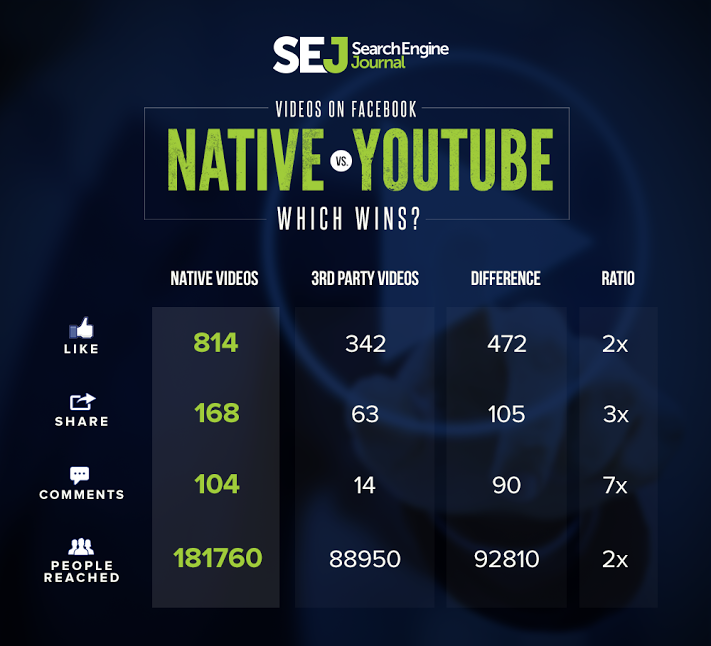 ---
One last point about why you should be uploading your videos to Facebook is that natively hosted videos will auto play on a user's timeline. This has a huge impact on the number of people that watch your video content.
When uploading the video to your business page, take the time to fill out the descriptions and include a custom thumbnail that will peak the interest of your target audience. Similar to the headline and image of a blog post, the title and thumbnail will determine whether someone stops to watch your video or if they scroll past it.
Instagram
Sharing and creating videos on Instagram is a bit different than other social channels. One reason is that Instagram is primarily used on mobile devices, so the optimal formatting is more vertical instead of horizontal. Also, Instagram videos are restricted in length. Post videos can only be 3 to 60 seconds long, and videos within Instagram stories are limited from 1 to 15 seconds. This short time constraint makes this platform an excellent place for teaser videos, product snapshots, and videos that help to increase brand awareness.
Instagram allows its users to either upload their videos or shoot them directly through the app. Whichever method you choose is fine as long as you give the video an eye-catching cover photo so your followers are drawn in to watch!
In the post text, it's a good idea to give your followers a quick overview of what your video is about. Since Instagram posts do not allow clickable links, you can add them to your bio and notify your followers to click the bio link for more information. Also, don't forget to add hashtags related to your content so that non-followers get the chance to see your video through search.
One last and very important point to remember - make the first few seconds of your video spectacular! A dull intro will likely lead viewers to swipe on by.
Pinterest
Pinterest used to be the platform only for users looking to find cool projects or decor ideas. Since its inception, Pinterest has transformed into a legitimate platform to generate traffic and increase brand awareness. Most Pinterest users actually prefer to follow brands over celebrities and influencers, making it a great resource to connect with your target audience.
Videos can be uploaded directly to Pinterest, but do have certain specifications that need to be followed. The video must be between 4 seconds and 15 minutes long. Also, the format must either be square or vertical. Similar to Facebook and YouTube, you'll need to enter a title and description of the video, preferably containing keywords related to your content. Pinterest does not allow users to upload a custom image or cover, but you can work around this by using a snapshot of a custom cover image within the video itself. Just include it at the beginning or the end of your video and choose it for the cover when you're uploading it to Pinterest.
TikTok
TikTok has exploded in the last year or two and become one of the most downloaded mobile apps in the world, so it's no surprise that marketers have begun to realize it's potential. TikTok allows users to share short videos, commonly just 15 seconds long. Users can also opt to story-like videos up to 60 seconds, too. Although this platform is not ideal for every ecommerce business, if your target audience is under 30 years old, it's definitely something to consider using.
Brands can create their own channel on TikTok to upload videos to and work with influencers to spread their content to a wide audience. TikTok also has an advertising network that helps to increase a brand's following and products.
One thing to note about TikTok is that its users love hashtag challenges. If you can find a way to challenge your target audience and get them to share videos about your brand or products, you will be able to reach a large number of people at little to no cost.
Putting it All Together
A strategic video strategy can have a multitude of benefits for your ecommerce store, most notably regarding your branding initiatives, generating traffic, improving customer experience and increasing sales. Although learning how to create professional-looking videos can take some time in the beginning, the value those videos will provide your company and your customers is well worth that investment.
If you have any questions about online video strategy and how you can get more from your videos, please reach out to our marketing team! We would love to hear from you. To view a full overview of ecommerce strategy, be sure to check out our guide on How to Increase Your Ecommerce Conversions.
Contents
Tags
Next Article

Building a strong SEO foundation will give search engines the information they need to determine how relevant your content is compared to what a user is searching for. Giving search engines this information will increase the changes your web pages rank at the top of the search results for the key terms related to your business, services and products.
Read More